Monique Barbut, Hassatou N'Sele and Ingrid van Wees to join IFFIm Board of Directors
Monique Barbut, Hassatou N'Sele and Ingrid van Wees to join IFFIm Board of Directors
Monique Barbut, Hassatou N'Sele and Ingrid van Wees to join IFFIm Board of Directors
1 July 2021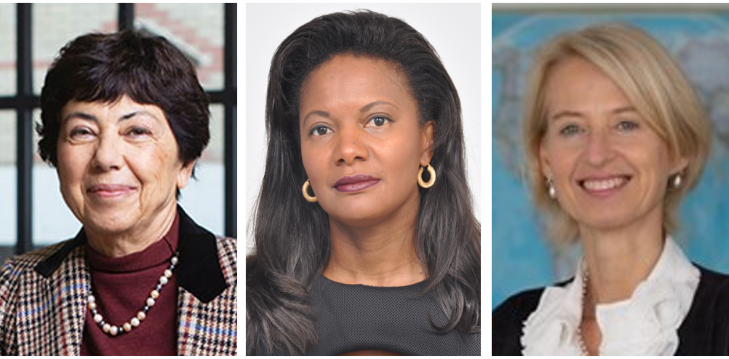 IFFIm new board members Monique Barbut, Hassatou Diop N'Sele, Ingrid van Wees
New board members bring diverse backgrounds in global development and finance
London, 1 July 2021 – IFFIm, the International Finance Facility for Immunisation, has appointed three new global development and finance executives to its Board of Directors.
Monique Barbut, President of World Wildlife Fund (WWF) France, Hassatou Diop N'Sele, Treasurer of the African Development Bank Group, and Ingrid van Wees, Vice President of Finance and Risk Management at the Asian Development Bank, will serve three-year terms. Mrs Barbut and Mrs N'Sele began their terms on 1 July 2021. Ms van Wees officially joins the Board on 1 October 2021.
Their appointments coincide with the end of the terms of 2015 appointee Fatimatou Zahra Diop, who steps down on 30 June, and Doris Herrera-Pol, who leaves the board on 31 December. By the end of 2021, IFFIm will have seven board members, bringing a rich diversity of geography, languages and, for the first time, a majority of female Board members.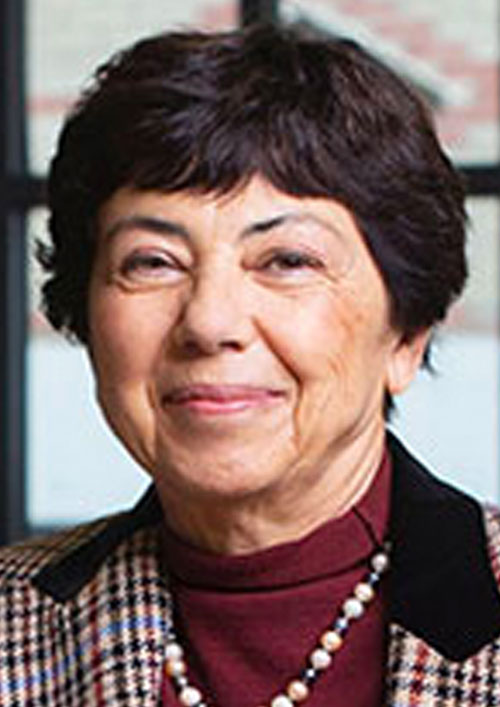 Monique Barbut, based in Paris, is the President of WWF France. Mrs Barbut brings to the IFFIm board a new perspective from an influential sector affecting global health—the environment. She had a long career at the Agence Française de Développement Group (AFD), the main French public institution for aid in development. From 2003 to 2006 she headed the Technology, Industry and Economics Division of the United Nations Environment Program (UNEP) before becoming CEO and President of the Global Environment Facility (GEF) in June 2006. In 2013, the United Nations Secretary General appointed her as Executive Secretary of the United Nations Convention to Combat Desertification (UNCCD). In addition to these functions, she became Under Secretary General of the United Nations in 2016. A French citizen, she holds a Masters in Economics from the University of Paris I and a PhD honoris causa TERI University New Delhi. She is also an officer of the French Legion of Honor.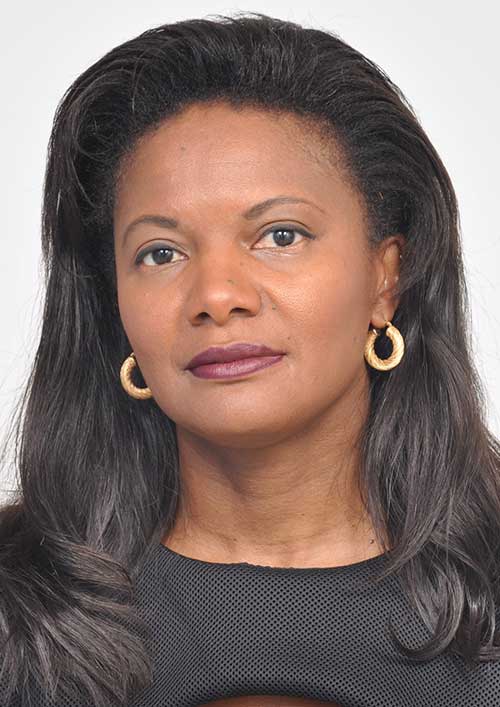 Hassatou Diop N'Sele is the Treasurer of the African Development Bank Group (AfDB) based in Abidjan, Cote d'Ivoire. She has led the expansion of the AfDB capital markets activities across the globe and is responsible for the funding of the Bank's activities (US$ 10 billion borrowing programme for 2021). Mrs N'Sele leads a diverse team of professionals in managing AfDB's US$ 33 billion borrowing portfolio, oversees the investing of the Bank Group's US$ 25 billion liquidity in multicurrency portfolios, and supervises hedging activities. Prior to this position, she was the head of funding of the AfDB. She joined AfDB in 1999 after working in the private sector in Senegal, as a Finance Director of Tiger Denrees Senegal, a startup commodities trading company, and at Citibank Senegal, as a Manager in the Financial Institutions department. She is a Senegalese citizen and holds an MBA in Finance and a Bachelor of Business Administration from George Washington University in Washington, DC.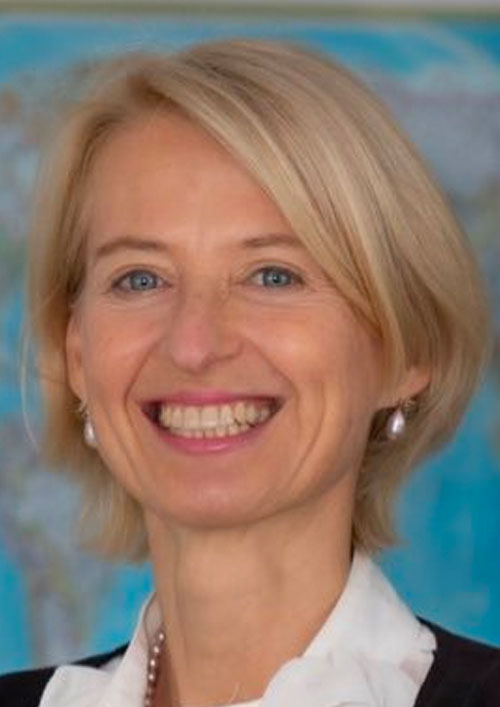 Ingrid van Wees is the Vice President for Finance and Risk Management of the Asian Development Bank (ADB), based in Manila, the Philippines. Ms van Wees is responsible for the overall management of the operations of the Office of Risk Management, Controller's Department, and Treasury Department. Before ADB, she was a Senior Director at the German Investment and Development Corporation (DEG) from 2004 to 2016. She moved to development banking after a career in the private sector with leading international companies in infrastructure and consumer goods from 1992 to 2004. She has an MBA degree from INSEAD and a MSc degree from Delft University of Technology in the Netherlands.
"We are pleased to welcome Monique, Hassatou and Ingrid to the board and are grateful for their commitment," said Ken Lay, IFFIm Board Chair. "More and more, we see how the different focus areas within global development are interrelated — the environment, health, education and agriculture together make up one big picture. As IFFIm strengthens its links with other sectors, we will benefit from the deep, diverse career experience of these professionals and their knowledge of finance, capital markets, and development. Making IFFIm a truly international board, they add broad geographic perspectives from Asia, Africa, Europe and the United Nations."
The three new board members join IFFIm as interest grows in its financing model and its potential applicability to a broader range of humanitarian priorities. IFFIm has helped finance the global pandemic response through the Gavi COVAX Advance Market Commitment. Established in 2006, IFFIm has, to date, received US$ 8 billion in multi-year pledges, which it has used to back the issuance of vaccine bonds sold on capital markets to raise flexible, immediate funding for Gavi, the Vaccine Alliance. Gavi's programmes save children's lives and protect health by increasing the use of vaccines in lower-income countries. IFFIm bonds have proven attractive to investors in institutional and retail markets by offering a portfolio diversification opportunity and attractive returns in an award-winning socially responsible investment.
Restricted Access Library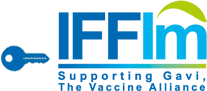 The material in this Restricted Access Library is intended to be accessed only by persons with residence within the territory of a Member State of the European Union and is not intended to be viewed by any other persons. The material in this Restricted Access Library is provided by IFFIm for information purposes only and the materials contained herein were accurate only as of their respective dates. Certain information in the materials contained herein is not intended to be, and is not, current. IFFIm accepts no obligation to update any material contained herein.
Persons with residence outside the territory of a Member State of the European Union who have access to or consult any materials posted in this Restricted Access Library should refrain from any action in respect of the securities referred to in such materials and are otherwise required to comply with all applicable laws and regulations in their country of residence.
By clicking Access restricted content: DYNAMIC-LINK-TEXT I confirm that I have read and understood the foregoing and agree that I will be bound by the restrictions and conditions set forth on this page.
The materials in this Restricted Access Library are for distribution only to persons who are not a "retail client" within the meaning of section 761G of the Corporations Act 2001 of Australia and are also sophisticated investors, professional investors or other investors in respect of whom disclosure is not required under Part 6D.2 of the Corporations Act 2001 of Australia and, in all cases, in such circumstances as may be permitted by applicable law in any jurisdiction in which an investor may be located.
The materials in this Restricted Access Library and any documents linked from it are not for access or distribution in any jurisdiction where such access or distribution would be illegal. All of the securities referred to in this Restricted Access Library and in the linked documents have been sold and delivered. The information contained herein and therein does not constitute an offer for sale in the United States or in any other country. The securities described herein and therein have not been, and will not be, registered under the U.S. Securities Act of 1933, as amended (the "Securities Act"), and may not be offered or sold in the United States except pursuant to an exemption from, or in a transaction not subject to, the registration requirements of the Securities Act and in compliance with any applicable state securities laws.
Each person accessing the Restricted Access Library confirms that they are a person who is entitled to do so under all applicable laws, regulations and directives in all applicable jurisdictions. Neither IFFIm nor any of their directors, employees, agents or advisers accepts any liability whatsoever for any loss (including, without limitation, any liability arising from any fault or negligence on the part of IFFIm or its respective directors, employees, agents or advisers) arising from access to Restricted Access Library by any person not entitled to do so.