IFFIm issues NOK600 million Vaccine Bonds
IFFIm issues NOK600 million Vaccine Bonds
IFFIm issues NOK600 million Vaccine Bonds
18 July 2019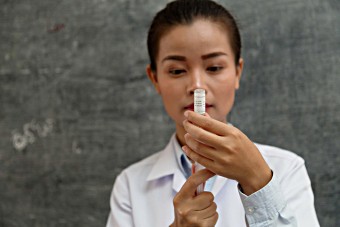 Funding will support CEPI's development of new vaccines to prevent deadly diseases.
London, 18 July 2019 – The International Finance Facility for Immunisation (IFFIm) today issued NOK600,000,000 Zero Coupon Notes to help finance research and development of new vaccines by the Coalition for Epidemic Preparedness Innovation (CEPI). CEPI is a public private initiative that accelerates development of vaccines against emerging infectious diseases and enables equitable access to these vaccines for affected populations during outbreaks.
The vaccine bonds will frontload a NOK600 million pledge from the Government of Norway to Gavi in support of CEPI .
Today's issuance was lead managed by Skandinaviska Enskilda Banken (SEB) and the Toronto-Dominion Bank. The issuance, which will mature on 15 March 2025, has a reoffer price of 93.892, 2bps through mid-swaps in NOK.
This marks IFFIm's 35th issuance and its first bond in Norwegian krone. Japan's Dai-ichi Life is a major purchaser and IFFIm's first institutional investor in Japan. Joining Dai-ichi Life in purchasing CEPI vaccine bonds are two Norwegian institutions, Kommunalbanken (KBN) and Norwegian pension fund MP.
With today's vaccine bond issuance, CEPI will be able to access frontloaded funding for its work developing new vaccines for some of the world's most dangerous infectious diseases. CEPI is an innovative partnership between public, private, philanthropic and civil organisations launched at the World Economic Forum Annual Meeting in Davos in January 2017. CEPI's immediate mandate is to develop vaccines for six diseases with outbreak potential: Nipah Virus, Lassa Fever, Disease X, Rift Valley fever, Chikungunya and Middle East Respiratory Syndrome (MERS). CEPI is coordinating the development of these new vaccines and will enable equitable access to these vaccines for people during outbreaks to end an outbreak or curtail an epidemic, regardless of ability to pay.
"CEPI and Gavi complement each other in the fight against vaccine preventable diseases," said Dr Seth Berkley, CEO of Gavi. "Gavi has a unique opportunity to support CEPI in vaccine development. The funds raised with this issuance will be put to work quickly at CEPI to fight deadly diseases that currently have no viable vaccines."
"This transaction demonstrates how IFFIm, a unique innovative financing mechanism, effectively brings together a major new international initiative such as CEPI developing life-saving vaccines, and socially responsible investors," said IFFIm Board Chair Cyrus Ardalan.
"This transaction is a unique opportunity for investors to benefit from a high credit quality product and, at the same time, make an impact by contributing to life-saving global health programs that IFFIm supports," said Jingdong Hua, Vice President and Treasurer of the World Bank, IFFIm's Treasury Manager.
"Emerging infectious diseases, like Nipah virus and Rift Valley Fever, pose a serious threat to global health security. That's why the world needs to move quickly to develop vaccines against such pathogens. This issuance is a crucial financial mechanism that will enable CEPI to quickly access the funding it needs to speed-up the development of vaccines against these emerging epidemic threats," said Richard Hatchett, CEO of CEPI.
"As an ESG-conscious investor, Dai-ichi Life is pleased to be part of this initiative, taken by Norway, IFFIm and Gavi, to support CEPI. It is critically important to accelerate the development of vaccines against emerging infectious diseases and enable equitable access to these vaccines for people during outbreaks. Dai-ichi Life has been promoting ESG investments and actively investing in green and social bonds. We hope our investment will help CEPI fulfill its mission successfully." said Koichi Matsumoto, General Manager, Global Fixed Income Investment Department, Dai-ichi Life.
"KBN is proud to invest in the first NOK denominated issue by IFFIm and thereby contributing to the very important work for life-saving vaccine programs around the world."
KBN Treasury Department, Fixed Income Team
IFFIm raises funds in the international capital markets to accelerate the availability of funds for immunisation programmes and health system strengthening. IFFIm's financial base consists of legally binding grant payments (approximately US$ 6.6 billion) from its ten sovereign donors. The World Bank is IFFIm's Treasury Manager.
From its inception in 2006 until today's announcement, IFFIm had already raised more than US$ 6.1 billion equivalent on the capital markets to support Gavi, whose mission is to save children's lives and protect people's health by increasing access to immunisation in poor countries.
IFFIm funds – approximately US$ 2.6 billion to-date — have accelerated funding for vaccines and have helped Gavi vaccinate more than 700 million children and save more than ten million lives.
Quotes from Lead Managers:
"The bespoke structure of this bond is the first of its kind for IFFIm and reflects the transformative power of capital markets. TD is proud to have worked with members of IFFIm, CEPI, Gavi, Norway and the World Bank in bringing about an innovative solution that can positively impact lives in the world's most at-risk nations."
John Moore, Executive Managing Director, Global Fixed Income, TD Securities
"This transaction demonstrates not only the strength and flexibility of the IFFIm model in accelerating much needed funding for life-saving vaccines to the world's poorest communities, but also the successful partnership between World Bank, CEPI and Gavi,that has translated into both domestic Norwegian and international investor support."
Ben Powell, Deputy Head, Climate & Sustainable Finance, SEB
Summary Terms of the Vaccine Bonds
| | |
| --- | --- |
| Issuer: | International Finance Facility for Immunisation Company |
| Issuer rating: | Aa1/AA/AA |
| Format: | RegS |
| Aggregate Nominal Amount: | NOK600,000,000 |
| Pricing Date: | July 8, 2019 |
| Settlement Date: | July 18, 2019 |
| Maturity Date: | March 15, 2025 |
| Coupon: | 0% |
| Instalment: | 20% of Aggregate Nominal Amount each year from March 15, 2021 to Maturity Date |
| Issue Price: | 93.892% |
| Listing: | Luxembourg Stock Exchange |
| Joint lead manager: | SEB, TD |
| ISIN/Common Code: | XS2024764222 / 20247622 |
Disclaimer
These materials are not an offer for sale of securities. The securities have not been registered under the U.S. Securities Act of 1933, as amended (the "Securities Act"), and may not be offered or sold in the United States absent registration or an exemption from the registration requirements of the Securities Act. The issuer does not intend to register any part of the offering in the United States or to conduct a public offering of securities in the United States. Any offering of securities will be made by means of a prospectus that may be obtained from the issuer and that will contain detailed information about the issuer and management, as well as financial statements.