True grit: In Nepal, health workers go the distance to deliver vaccines
True grit: In Nepal, health workers go the distance to deliver vaccines
5 April 2022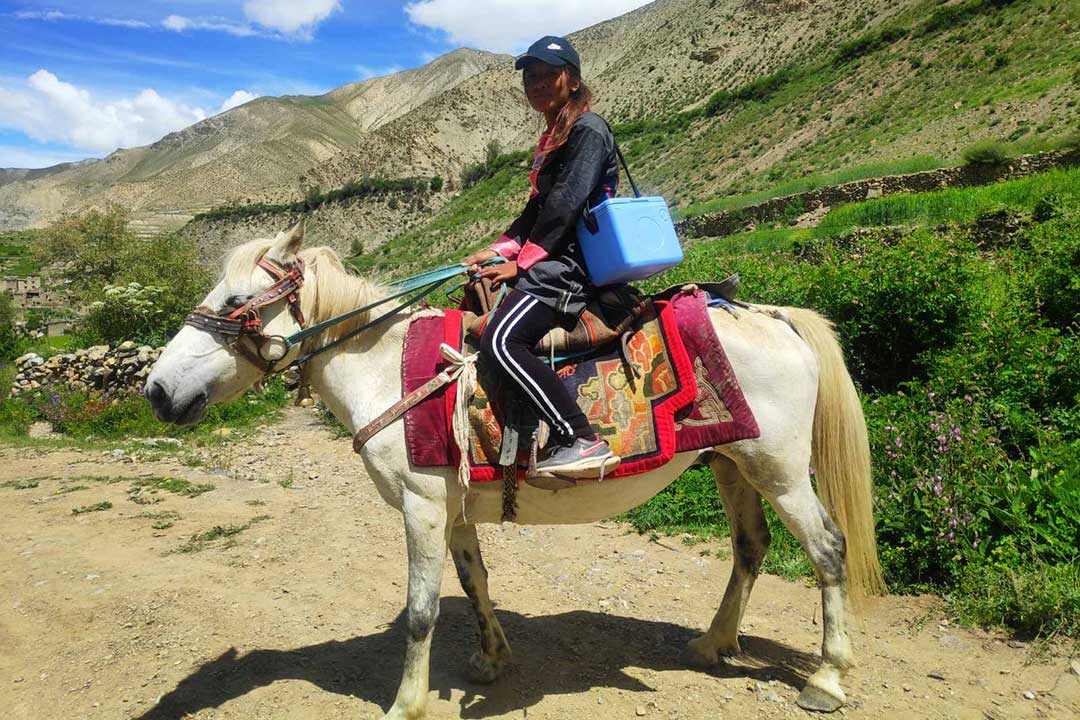 Nurse Pemba Gurung travelling in horse to deliver vaccines to different villages of dolpa.
When it comes to getting vaccines to everyone who needs them, the "last mile" covered by health workers remains the hardest.
When it comes to getting vaccines to everyone who needs them, the "last mile" covered by health workers remains the hardest. Even as COVAX, with US$ 975 million in disbursements from IFFIm, delivers billions of doses to 92 low-income countries, for some, administering the vaccines is almost as challenging as obtaining them. As of April 2022, over 65%1 of the global population has received at least one dose of the COVID-19 vaccine. This number is growing daily, but some patients are extremely difficult to reach.
Overcoming last-mile barriers from transportation to cold chain transport takes grit, and the people of Nepal are among the world's most robust and determined. Tens of thousands of Nepalese health workers are working day and night to deliver COVID-19 vaccines to every corner of the country, often putting their own lives on the line. Thanks to them, more than 75% of the population has at least one dose of COVID-19 vaccine. The government expects to vaccinate 80% of the population by 30 April.2
In addition to supporting COVID-19 vaccines in Nepal through the COVAX AMC, in 2021, IFFIm provided US$ 26.4 million in funding for the country's typhoid, polio, pneumonia, pentavalent and rotavirus vaccine programmes. In total, IFFIm has provided US$ 51.5 million in disbursements for immunisation and health system strengthening in Nepal since 2006.
Going the extra mile(s)
In the Himalayas, health workers have circumvented rough terrain with no roads by travelling the traditional way, on horseback, delivering COVID-19 vaccines and other treatments to mountain regions and rural villages more than a thousand kilometres from Kathmandu. It can take up to eight days to reach these villages using donkeys and horses, and longer on foot.
Since the beginning of Nepal's COVID-19 vaccination campaign, nurse Pemba Gurung has been working in the Dolpa district to deliver vaccines to every household. Her horse is her transportation, and often her only companion, as she travels up to five days through the hills and mountains to carry vaccines to remote villages.
The long, solo journey is risky. "There's always a time when I do not see houses or people for an entire day," she says. "I worry that if I fall from the horse and get injured, there will be no one to rescue me and the vaccines."
Some health workers in Nepal travel on foot, where the terrain through mountain passes, as high as 5,300 metres, is too dangerous for horses. Altitude sickness is a risk, says Bir Bahadur, a health worker from Hula district who experienced severe headaches and vomiting during a trip through the Kang La Pass.
Fortunately, in the mountains, cold temperatures keep vaccines safe without refrigeration, maintaining the cold chain. Health workers travelling long distances often store their vaccine boxes outside at night.
Carrying the hopes of a nation on her back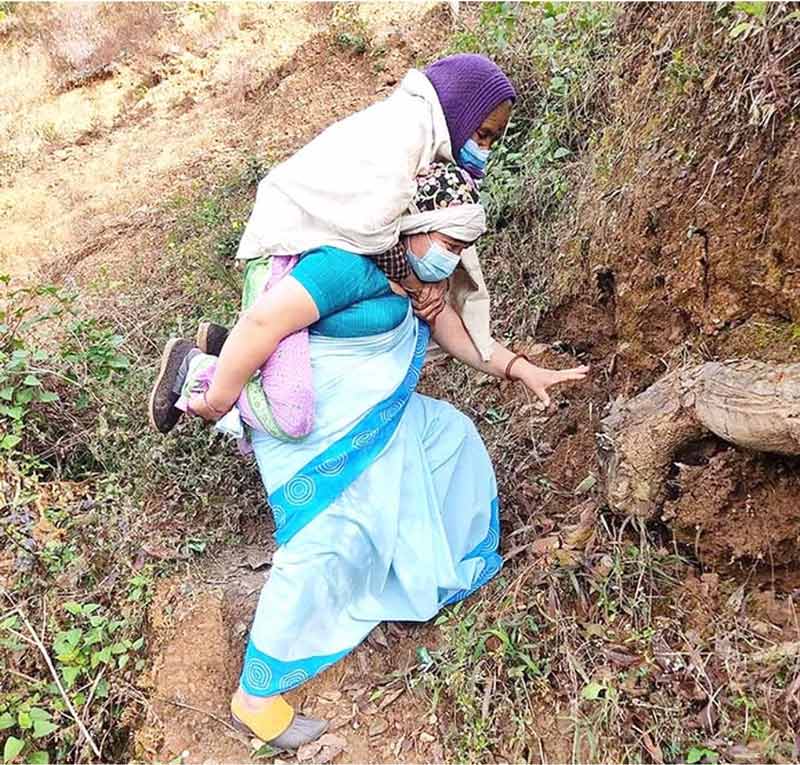 An inspiring story about Nepalese health workers captured the world's attention in January, when Lila Thapa from Gulmi district in western Nepal walked 30 minutes over hilly terrain with an elderly woman named Tadan on her back. Tadan has high blood pressure and diabetes, and Thapa's determination to carry her from her home to the vaccination centre and back enabled her to get a single dose Johnson & Johnson vaccine. Following the WHO SAGE framework, Nepal has prioritised the elderly and people with disabilities for vaccination. With the J&J vaccine, they don't have to return for a second jab.
"She would be left behind if she did not receive her vaccine that day, so I decided to take her to the health post even if I had to carry her on my back," said Thapa.
In a country of nearly 30 million3 people, Thapa is one of the 51,416 female community health volunteers in Nepal who have shown a passion for service, especially during the pandemic. They receive a monthly allowance of only 700 rupees4 for their work (approximately US$ 5.75).
"It is all due to the hard work of our health care workers that the Nepal government is able to achieve very high vaccine coverage even in the places where there are no facilities or roads," said Dr Samir Kumar Adhikari, assistant spokesperson for Nepal's Ministry of Health.
"I feel that I was born to be a health worker," said Thapa, who has been doing the job for seven years. "I wish to continue the work for the rest of my life."
Health workers extend hours as Nepal's vaccine mandate doubles patient load
Since the start of 2022, Nepalese health workers have met a crush of demand from a vaccine mandate that was imposed on 17 January. As the Omicron variant was spreading rapidly in Nepal, the government made it mandatory for people to present COVID-19 vaccination cards to access public services. Vaccination rates rose from one or two hundred thousand doses per day to almost a million doses per day.
To deal with the influx of patients, health workers extended their hours until late at night. "People who are busy during the daytime come for vaccines in the evening," says Mina Lamichhane, an assistant health worker at Budhanilakantha Health Post, Chapali, Kathmandu, Nepal.
Health workers like these staff and volunteers in Nepal are helping the world go the last mile to break COVID. As their stories of hard work and reward share inspiration and good news, IFFIm and Gavi will continue to support them through the COVAX AMC.
Read more daily, inspiring stories about health workers in Gavi-supported countries in the VaccinesWork blog at Gavi.org.
---
1 https://www.nytimes.com/interactive/2021/world/covid-vaccinations-tracker.html
2 https://www.gavi.org/vaccineswork/carrying-hopes-nation-her-back-nepalese-health-worker-goes-above-and-beyond
3 https://kathmandupost.com/national/2022/01/27/nepal-s-population-is-29-192-480
4 https://www.gavi.org/vaccineswork/carrying-hopes-nation-her-back-nepalese-health-worker-goes-above-and-beyond
Restricted Access Library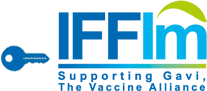 The material in this Restricted Access Library is intended to be accessed only by persons with residence within the territory of a Member State of the European Union and is not intended to be viewed by any other persons. The material in this Restricted Access Library is provided by IFFIm for information purposes only and the materials contained herein were accurate only as of their respective dates. Certain information in the materials contained herein is not intended to be, and is not, current. IFFIm accepts no obligation to update any material contained herein.
Persons with residence outside the territory of a Member State of the European Union who have access to or consult any materials posted in this Restricted Access Library should refrain from any action in respect of the securities referred to in such materials and are otherwise required to comply with all applicable laws and regulations in their country of residence.
By clicking Access restricted content: DYNAMIC-LINK-TEXT I confirm that I have read and understood the foregoing and agree that I will be bound by the restrictions and conditions set forth on this page.
The materials in this Restricted Access Library are for distribution only to persons who are not a "retail client" within the meaning of section 761G of the Corporations Act 2001 of Australia and are also sophisticated investors, professional investors or other investors in respect of whom disclosure is not required under Part 6D.2 of the Corporations Act 2001 of Australia and, in all cases, in such circumstances as may be permitted by applicable law in any jurisdiction in which an investor may be located.
The materials in this Restricted Access Library and any documents linked from it are not for access or distribution in any jurisdiction where such access or distribution would be illegal. All of the securities referred to in this Restricted Access Library and in the linked documents have been sold and delivered. The information contained herein and therein does not constitute an offer for sale in the United States or in any other country. The securities described herein and therein have not been, and will not be, registered under the U.S. Securities Act of 1933, as amended (the "Securities Act"), and may not be offered or sold in the United States except pursuant to an exemption from, or in a transaction not subject to, the registration requirements of the Securities Act and in compliance with any applicable state securities laws.
Each person accessing the Restricted Access Library confirms that they are a person who is entitled to do so under all applicable laws, regulations and directives in all applicable jurisdictions. Neither IFFIm nor any of their directors, employees, agents or advisers accepts any liability whatsoever for any loss (including, without limitation, any liability arising from any fault or negligence on the part of IFFIm or its respective directors, employees, agents or advisers) arising from access to Restricted Access Library by any person not entitled to do so.